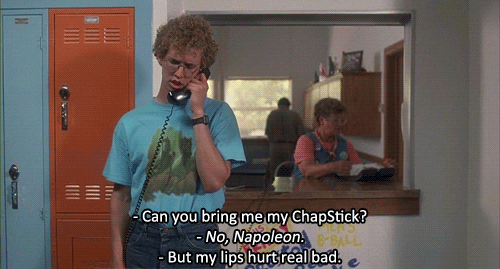 Now that I officially bummed all of you out with my last post (sorry!), I am going to take a moment to talk about something super important: chap stick. Because seriously, I am addicted to it. Pretty sure there hasn't been a moment of my life since I was 11 that my lips have been dry.  I think this obsession first started thanks to Bonnie Bell lip smackers. The flavors, omg who didn't love the lemonade kind or Dr. Pepper? Plus, it also was a necklace, what else could you want? It was basically my dream in life to look as cool as this girl and also have all those chap sticks. (I would have been so jealous of her side braid).
I always have at least 3 different versions of lip balm/chap stick/ lip gloss  that I use in rotation depending on the situation.  Regarding lip gloss, I am very particular about it because I think having sticky lips that feel like someone glued them together is an excellent form of torture.  Worst. Thing. Ever. And for some reason, there are loads of lip glosses that are sticky, icky. My go-to affordable lip gloss: NYX Butter Gloss. I have about 4 of these and every time I wear the cherry pie shade people always ask where I got it. For chap stick, I really like Burt's Bees. Goes on smooth, moisturizes and they have a ton of amazing flavors. For lip balm, I'm a sucker for Eos.  I love that I can always find that little egg in my purse. Currently in love with the vanilla mint flavor.
If I were kidnapped and taken to desert island and they told me I could only have 3 things, one of them would be chap stick. Or better, it would be coconut oil so I could make mine because I just learned that it is super easy to do it yourself.  If you are mad for lip balm like me then you should absolutely copy this super easy recipe for homemade lip balm. I usually use this when I'm about to go to bed and I wake up in the morning with super soft lips.
DIY Lip Balm
What you'll need:

Lipbalm container (I used these from amazon)
1 TB Coconut Oil
1 t honey
1/2 TB bees wax (they sell this at most craft stores)
mixing bowl
lip stick for color (optional)

How to make it:

Step 1: Mix coconut  oil, shaved bees wax (I used a cheese grater because it melts faster) and honey together in a bowl. Either use a double boiler or a bowl in the microwave for about 20 seconds. It should be liquid and mixed together. If you want to give it some color, you can melt some lip stick into the coconut oil.
Step 2: Pour into lip balm container and let set. I put mine in the freezer which I think helped to harden it faster.
Step 3: Once it is hard, you are done! So easy and you will never have to go without lip balm again, woo hoo!