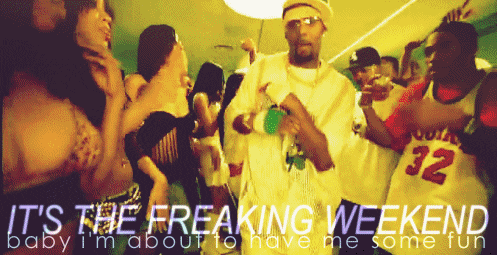 Hooray, you've made it to the weekend! I just got back from a glorious outdoor run where I listened to an old ipod of mine I found and you guys, can we just talk about how wonderful music was circa 2000-2007? I forgot about how amazing R. Kelly  can make weekends feel. I really think I might want to start a club that only plays music from the early '00–because let's face it, that would be awesome. Maybe we can throw in a 90's night for good measure.  Whose with me?
In other news, obviously I really fell off the blogging wagon this week and I'm sure you are all very sad for it. No great excuse except that sickness hit our house therefore nothing really blog worthy happened. C'est la vie.
Do you have any fun plans for the weekend? I am going to try and hit up a new brunch spot in town which always makes me happy and continue reading the Fiery Cross because I'm addicted.  Whatever you are up to, I hope that it includes at least one moment where you listen to Remix to Ignition and bounce, bounce, bounce.
Here's some fun links I saw around the web this week:
8 awesome podcasts: I really love me some podcasts and absolutely want to listen to every one on this list.
Would you try seltzer in your scrambled eggs? I'm kinda skeptical but am totally going to try this out over the weekend.
This Harry Potter Wall is amazing: I am super impressed with how straight she got those lines. But, I think if I were doing it I might pick a different page–too much Dursley for me.
Ask a French Girl:  This lady has so much wisdom. Repeat after me, you don't have to have it all under perfect control.
12 ways to commemorate your travels: I love the idea of celebrating your travels around your house.
Does anyone want to tour the world with me just to eat breakfast? Because this list, seriously. I want to try everything.
Poll: is a solid gold toilet art? I vote no. Also, I bet you anything there will be a line out the door to use this loo.
House shaped bed for guests: I think this is kinda genius but there is no way the Texan would fit in it.
Cucumber/Coconut eye masks: These look heavenly.
15 easy dinners when you don't feel like cooking: this will def come in handy over the summer when turning on your oven is the worst.
Happy, happy weekend to all!! xo