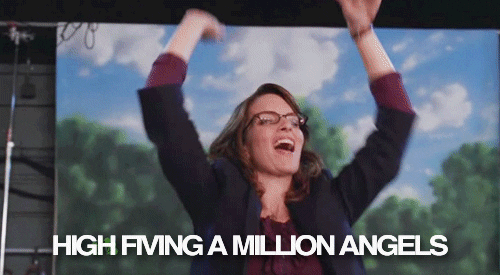 Hello! It's Friday! Which for some of us means we have 2 days where no one is going to ask us to do anything. Well, except for you parents. That pretty much never ends for you. I've been a little absent here (sorry!) because I've been having loads of fun traveling to see friends and also, um I got a job? I'll write more about it next week, it's exciting! Money! And working for women. What more can I want?
I hope I haven't lost every one of my readers in my absence. Seriously, come back. Commmeee baccckkkkkk. There is still a lot of sass waiting for you. And cookies. And maybe some wlushies  (wine + slushie, remember?) if you're into that sort of thing.
So, what are your plans this weekend? Anything exciting? The Texan and I have basically seen each other for less than 12 waking hours this week which is very unusual for us so we'll be spending quality time together doing a whole lot of nothing. I really want to go see Love and Friendship and since the Texan has a lifelong crush on Kate Beckinsale I think I'll be able to convince him.
No matter what you are doing this weekend I hope it is just grand. And maybe includes a cinnamon roll because that always makes things better. Here are some fun things I saw around the web the past few weeks.
A Super Upsetting Cookbook about Sandwiches: This book sounds like it was made for me. You had me at YA book/first person diatribes.
These cakes are works of art, I can't stop looking at them. Do you think they taste as good as they look?
In the most disgusting news since all those stories about Trumps tiny hands, KFC is releasing edible nail polish. Why, just why? If they are going to make edible nail polish it should be chocolate, everyone knows that. Or bacon. No wait, chocolate bacon!
The tragic history of RC Cola. I love mental floss. And reading random stories. So this is only for you nerds out there that like that sort of thing too.
OMG there is now an ice cream bar that cures hang overs! I'm not sure I believe in this or in anything that isn't a NYC egg and cheese to cure hang overs (oh how I miss thee!)
For you Friends fans out there, 2 exciting news items. One, they figured out who played ugly naked guy so we can all rest easy. And two, here's Matt LeBlac saying how you doin' and making Kahlessi giggle. You're welcome.
Please, please someone buy me this dragon candle. Thanks.
23 times when Prince Harry was super cute with kids. I love these so much. Harry forever.
3 unexpected ways to use cake mix. I can totally see the waffles and fudge being delicious. But as breading for chicken? I'm skeptical.
Happy, Happy weekend to all, and to all a good night! xo!