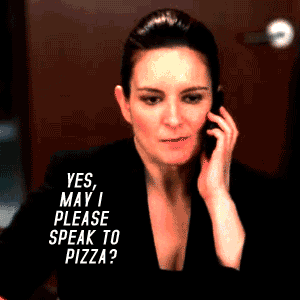 You guys, I just finished my first honest to goodness week of work in like, forever and let me tell you…. It was okay. I feel very lucky to have found a job I can do from home. But also, you have to be disciplined, yo. I learned early in the week that getting properly dressed is important to working. Because being in sweats with no make up actually makes working like a billion, million times harder because your brain is saying, hey man why are we working, look at us? We're disgusting. Let's wallow. And, my head is all like, naw, must keep working, must impress new bosses . It's not fun. And now, I'ma gonna eat some pizza, because I totally earned it. Through brain work.
So, what are your plans for this weekend? We are going to try a new tapas with some friends  because seriously, I haven't met  a tapa I don't like. Tapa? More like Yes-a, I'm a gonna eat that and not feel guilty because it's so small. Hooray for Tapas, hooray for Spain. Whatever you are doing this weekend, I hope it's fantastic. And ideally includes small food you can eat without guilt.
Here is a list of stuff I saw on the interwebs I thought was cool this week:
Poll: birthday cake croissants: good or gross? I'm leaning towards gross because I'm a croissant purist but birthday cake is almost always good so maybe even?
15 easy DIY totes for summer: I totes love all of these. Ha, see what I did there?
How to be Happier: Yes to this, yes to simple but appealing design, yes to not feeling happ(ier)
Scandinavian doll house kitchen: Is it like, a sign that you've failed at life when you dream of your kitchen being like a doll house kitchen? The hood! The tile! The tiny cuteness. OMG.
Cucumber Vodka Soda: You had me at its like drinking salad.
Loads of pretty, floral date dresses: because who doesn't want to wear those all summer long, for real.
Mango fro-yo: putting this first on my list for when I actually buy an ice cream maker. Mango forever!
Owls get fired from Harry Potter: Maybe the world just isn't ready for real play life owls.
Happy, happy weekend!!